Pop-Up Art Loop
Principle: Money is not the issue
By Brendan Crain
February, 2010
To inject life into recession-smacked commercial districts in the Loop, the Chicago Loop Alliance (CLA) has been working with landlords to turn vacant storefronts into temporary public art spaces.

"At the beginning of 2009, we weren't planning on doing this," explained CLA Director Ty Tabing, when asked about how the CLA got into the pop-up art gallery business. "But with the retail climate being what it was, we started a pilot program in the summer of 2009."

Less than a year later, the so-called Pop-Up Art Loop project has created four downtown galleries in empty storefronts, a number that will double this spring.

Tabing notes that working with smaller, locally based landlords has been important, as they are more likely to be invested enough in the city to say "yes" to donating what might otherwise be revenue-generating square footage.

"We occupy a sort-of gray area," Tabing noted. "You don't really need a $200 business permit if you're only going to be in a space for two months." The CLA's role, then, has been to take care of the back-end of things – scout potential spaces, work with the building owners, and draw up temporary leases.

Most facets of the Pop-Up Art Loop project are coordinated without funding, proving once again the Placemaking principle that money is not the issue. Wherever there is a dedicated and determined group of citizens, innovative public spaces are always within reach. The CLA realized this early on and appealed to members of the city's existing arts scene with a simple pitch: free exhibit space in the heart of the city in exchange for time and effort – and, of course, art.

Co-Prosperity Sphere (C-PS), a Bridgeport-based collective, is one of these groups. For the next two months, C-PS will occupy a former Ritz Camera shop under the El tracks at 208 S. Wabash St. According to Ed Marszewski, co-director of C-PS, the turnaround was rapid: " [CLA] contacted us about two months ago. We found out we'd been selected two weeks ago, and we opened last Tuesday."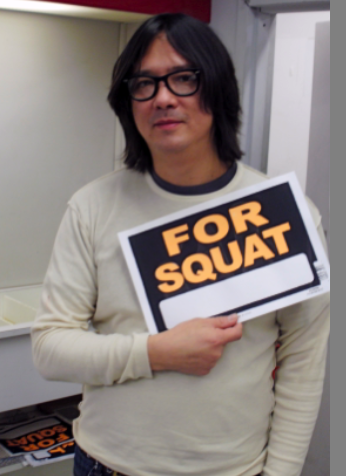 In the time their gallery – deemed the (Con)Temporary Art Space – will be open, C-PS plans to get as much out of the prime downtown location as possible. "The space functions in four ways," explained Emily Clayton, a C-PS collaborator who's serving as the events coordinator for the pop-up gallery. "There's a store selling publications from the [C-PS-run] Public Media Institute, a project mapping out interesting things that are going on around Chicago to create an alternative city guide, studio space where people can come in to work on Public Media Institute projects, and of course the gallery space. There's a lot going on, and we're excited to have as many people come in and collaborate as are interested."

Marszewski echoed this sentiment: "Pop-Up Art Loop is a great way to use underutilized spaces. It's a difficult economic time for everyone, and it's always hard for artists to get exposure to new audiences. This project gets us into the Loop, where we can engage with people who wouldn't normally be exposed to what we're doing."

If you're starting to think something like Pop-Up Art Loop might be a great way to spruce up your neighborhood commercial strip, take heart. Tabing says that, while the CLA remains focused on the Loop, Chicago's Bureau of Cultural Affairs is interested in seeing pop-up galleries in other neighborhoods around the city; and WPB, the Wicker Park and Bucktown SSA, is already in the early planning stages of their own program. "There's room for growth with pop-up spaces," Tabing said. "The response from everyone has been very positive."